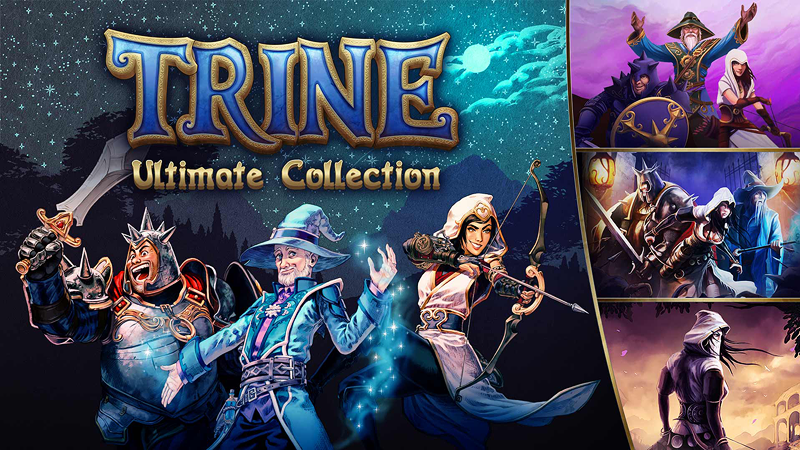 Description
Experience the complete Trine series with Trine: Ultimate Collection. This collection includes all four titles in the best-selling Trine series

Join Amadeus the Wizard, Pontius the Knight, and Zoya the Thief on a journey across a forsaken and ruined kingdom. Bound to a mysterious artifact called Trine, the three unlikely heroes use their unique skills to battle the undead, navigate treacherous environments, and solve challenging physics-based puzzles across a collection of perilous quests in this best-selling adventure series. Through the first three titles, the protagonists come to discover, understand, and seek to control the powers bestowed upon them by Trine.

The newest entry to the best-selling adventure series, Trine 4: The Nightmare Prince, returns to Trine's beloved 2.5D roots. Discover the mysterious Prince Selius, a troubled young wizard whose dark dreams have materialized to wreak havoc in reality. It is up to the band of heroes to resolve the situation before the prince's magical turmoil consumes the world in its shadows.

Trine 4 reaches new heights in the series, bringing the most complete gameplay experience ever to fans and new players alike!

Developer:Frozenbyte | Publisher: Modus Games

To learn more about Trine 4: The Nightmare Prince and Trine: Ultimate Collection, visit www.trine4.com


Features
Includes Trine Enchanted Edition, Trine 2: Complete Story, Trine 3: The Artifacts of Power, and Trine 4: The Nightmare Prince.
---
Videos
Trine 4: The Nightmare Prince - Official Launch Trailer YouTube
Trine: Ultimate Collection Trailer YouTube
Trine 4 - Story Trailer YouTube
Trine 4 - Release Date Reveal Trailer YouTube
Trine 4: The Nightmare Prince Announcement Trailer YouTube, Download (.zip)
---
---
Images
---
Logo & Icon
There are currently no logos or icons available for Trine: Ultimate Collection. Check back later for more or contact us for specific requests!
---
Additional Links
Trine Series on Twitter
twitter.com.
Trine Series on Facebook
facebook.com.
---
About Frozenbyte
Boilerplate
Frozenbyte is an independent game developer with a focus on game quality. All Frozenbyte games are based on own IP. Original titles include the critically acclaimed Trine series.

Frozenbyte has developed games for Xbox 360, PlayStation 3, Wii U, Nintendo Switch, Xbox One, PlayStation 4, PlayStation 5, Xbox Series S/X, Windows, Mac, Linux, Android and iOS.

Current projects: Trine 5: A Clockwork Conspiracy and Starbase
More information
More information on Frozenbyte, our logo & relevant media are available here.
---
---
presskit() by Rami Ismail (Vlambeer) - also thanks to these fine folks