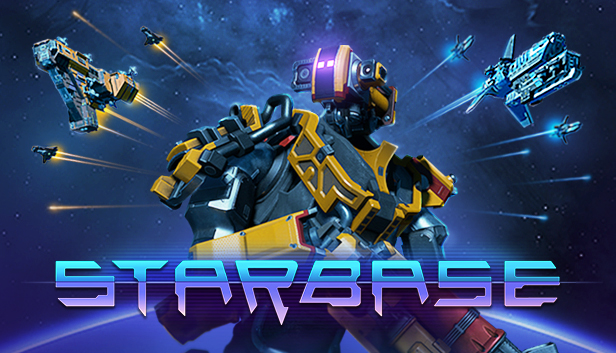 Factsheet
Developer:
Frozenbyte
Based in Helsinki, Finland
Release date:
Steam Early Access July 29th - 2021
Platforms:
Steam

Website:
starbasegame.com
Regular Price:

Description
Coming to Steam Early Access on July 29th 2021!

Starbase is a massively multiplayer online game with gameplay focused on building and designing spaceships and stations, exploration, resource gathering, crafting, trading, and combat.

Set in a universe of vast scale and detail, the fully-destructible environment and hybrid voxel/vertex-based game mechanics enable simulations in Starbase at immense depth, giving players the ultimate freedom to exploit their innovativeness and creativity. From constructing spaceships that can endure the hazards of space, such as collision and corrosive damages, to creating massive automated factories and designing electricity and data networks, the players are free to do it their own way.
Coming to Steam Early Access onJuly 29th 2021, players are invited to start the exploration and colonization of the ever-expanding Starbase universe!

To learn more about Starbase, visit www.starbase.com

Join our Discord at discord.gg/starbase


Features
Destructible environment with voxel and fracture damage and in-depth simulation
A single persistent Universe - Play and interact online with thousands of players, join factions, and more
Build and design your spaceships, factories, stations, and devices down to the tiniest detail
Engage in seamless FPS and spaceship combat with thousands of players simultaneously
Explore the infinitely expanding universe, and discover stations, asteroid fields, spaceship wrecks, social hubs and fellow travelers.
Mine raw minerals from asteroids and salvage different parts from broken ships, trade your salvaged goods at trading stations, or steal from others
---
Videos
Starbase - Early Access Release Trailer YouTube
Starbase - Return of the Alpha Invites YouTube
Starbase - New Features Trailer (Jan 2020) YouTube, Download (.zip)
Starbase - Announcement Trailer YouTube, Download (.zip)
Starbase - Station Siege Feature Video YouTube
Starbase - Capital Ships Feature Video YouTube
Starbase - Easy Build Mode Feature Video YouTube
Starbase - Spaceship Designer Feature Video YouTube
Starbase - Tools Feature Video YouTube
Starbase - Yolol Programming Feature Video YouTube
Starbase - Spaceships Feature Video YouTube
Starbase - Detailed Destruction Feature Video YouTube
---
---
Images
download all screenshots & photos as .zip (126MB)
---
Logo & Icon

---
Additional Links
Starbase website
starbasegame.com.
Starbase Discord
discord.gg.
Starbase on Reddit
reddit.com.
Starbase on Twitter
twitter.com.
Starbase on Facebook
facebook.com.
---
About Frozenbyte
Boilerplate
Frozenbyte is an independent game developer with a focus on game quality. All Frozenbyte games are based on own IP. Original titles include the critically acclaimed Trine series.

Frozenbyte has developed games for Xbox 360, PlayStation 3, Wii U, Nintendo Switch, Xbox One, PlayStation 4, PlayStation 5, Xbox Series S/X, Windows, Mac, Linux, Android and iOS.

Current projects: Trine 5: A Clockwork Conspiracy and Starbase
More information
More information on Frozenbyte, our logo & relevant media are available here.
---
---
presskit() by Rami Ismail (Vlambeer) - also thanks to these fine folks