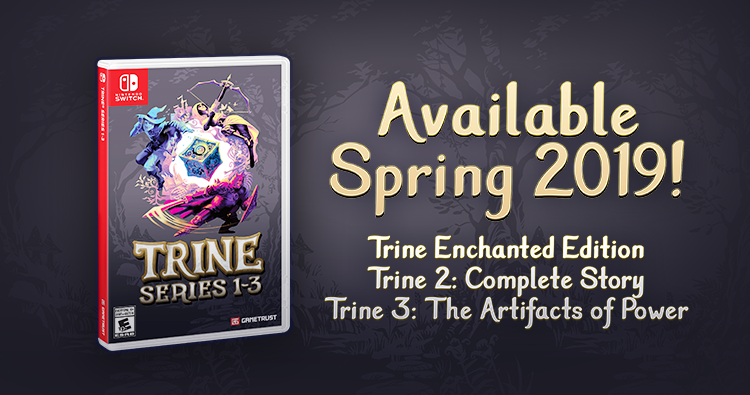 Description
Trine Series 1-3 is a physical game card release of the Trine Trilogy on Nintendo Switch, developed by Frozenbyte and published by GameTrust. Available on September 20th!

Trine is a series of acclaimed platforming games with a fantastic mixture of action, puzzles and adventure, where three heroes make their way through dangers untold in a magical fairytale world, featuring physics-based puzzles, beautiful sights and online co-op.

Available exclusively at GameStop stores and online.

Features
Explore the magical world of Trine;journey into a beautiful land of adventures, puzzles...and action!
Physical game card includes three games for $39.99: Trine Enchanted Edition, Trine 2: Complete Story and Trine 3: The Artifacts of Power!
---
Videos
Trine Series 1-3 Nintendo Switch Physical Edition Trailer YouTube, Download (.zip)
---
Images
download all screenshots & photos as .zip (86MB)
---
Logo & Icon
There are currently no logos or icons available for Trine Series 1-3. Check back later for more or contact us for specific requests!
---
---
Selected Articles
---
Request Press Copy
We are afraid this developer has not upgraded their presskit() to use distribute(). For security purposes, this form has been disabled.
---
Additional Links
Trine and Trine 2 Soundtracks
aripulkkinen.com.
Trine 2 related blog posts
frozenbyte.com.
Trine 2: Complete Story on Wikipedia
en.wikipedia.org.
---
About Frozenbyte
Boilerplate
Frozenbyte is an independent game developer with a focus on game quality. All Frozenbyte games are based on own IP. Original titles include the critically acclaimed Trine series.

Frozenbyte has developed games for Xbox 360, PlayStation 3, Wii U, Nintendo Switch, Xbox One, PlayStation 4, PlayStation 5, Xbox Series S/X, Windows, Mac, Linux, Android and iOS.

Current projects: Trine 5: A Clockwork Conspiracy and Starbase
More information
More information on Frozenbyte, our logo & relevant media are available here.
---
---
presskit() by Rami Ismail (Vlambeer) - also thanks to these fine folks